Check Out These Life-Changing Boots For Men
Some men will agree that their best friend is their pair of boots. They bought them to become their loyal companions wherever they go and whatever adventure they do. Some of them usually look at this footwear as their buddy all the time, and they feel sad about saying farewell to them.
You can count on hunting for the same boots or look for an upgrade. Did you know that there are many choices in the market? It would be best to choose the most suitable one for you. Consider the practicality, functions, and fashion style when buying. Check out some items below for a guide and more information. 
Axel Arigato is from Sweden, and we cannot get enough of their collections. You can check their crafted sneakers and take a look at their newest Chelsea boots. The features of the pair of boots they have are excellent and will not make you regret it. Enjoy the item made by premium suede with a gold stamp on the heel. Also, you will enjoy the round toe and tread pattern on the sole of their classic Chelsea boot silhouette. It can add traction if you are on wet streets or track, plus available in leather.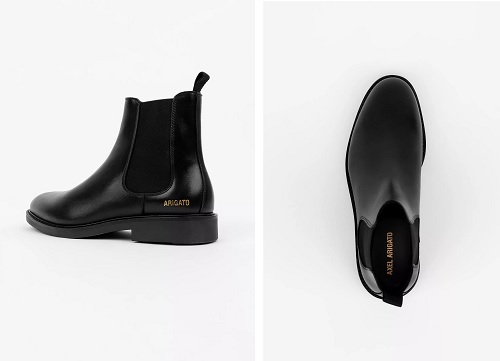 You can count on this iconic and best-seller item from Timberland. It was from 40 years ago but remains a hit until now. Consider the flawless performance and classic style of this pair of boots. Also, it has features like rust-proof eyelets, waterproof and abrasion-resistant uppers, and a climate-controlled footbed. You will not regret your purchase because of the comfort and warmth it can give to your feet.
Most buyers of Blundstone 550 Boot claimed that the footwear has minimal weight, best support, and is comfortable to wear. Also, it first showed in Australia and was made for industrial workers. The slip-on pair of boots have an elastic panel and weatherproof outsoles. You can count on its shock-absorbing design as well if you are into extreme adventures. Enjoy your hiking and strolls with these Chelsea work boots.
The original version of the desert boot was from the designs of Nathan Clark during the 1950s. People started being a fan of buying this footwear. It is clean, which makes it a perfect buddy for any situation. Also, the item has straightforward lace fastening and premium beeswax leather.
Some men look for a pair of boots that will satisfy their needs for practicality and functions. It would be best to consider these polished Diemme Hiking Boots when planning to explore trails. Also, the soles are light, and the construction of Cordura is abrasion-resistant and lasts longer.
We always look for something casual but comfortable to wear and durable. It would be best to consider the Red Wing Heritage Classic Boot and enjoy its waterproof features. Also, the footwear has a moc-toe design and a reliable outsole. You will not regret the vibe of these leather work boots.
Shop online and get the best style and comfort with DAMART
Damart is constantly adjusting its collections to inspire fun, vitality, innovation and care through its products and its customer relationships to offer stylish and comfortable clothing. Their new collections offer "trendy" styles, using materials with a sensual touch and ready-to-wear. They strive to deliver unrivalled quality, value and, most of all, excellent customer service. Find men & women's clothing, shoes and thermals at damart.co.uk and get the best deal that they exclusively offer on the store page.
Tags :
DAMART